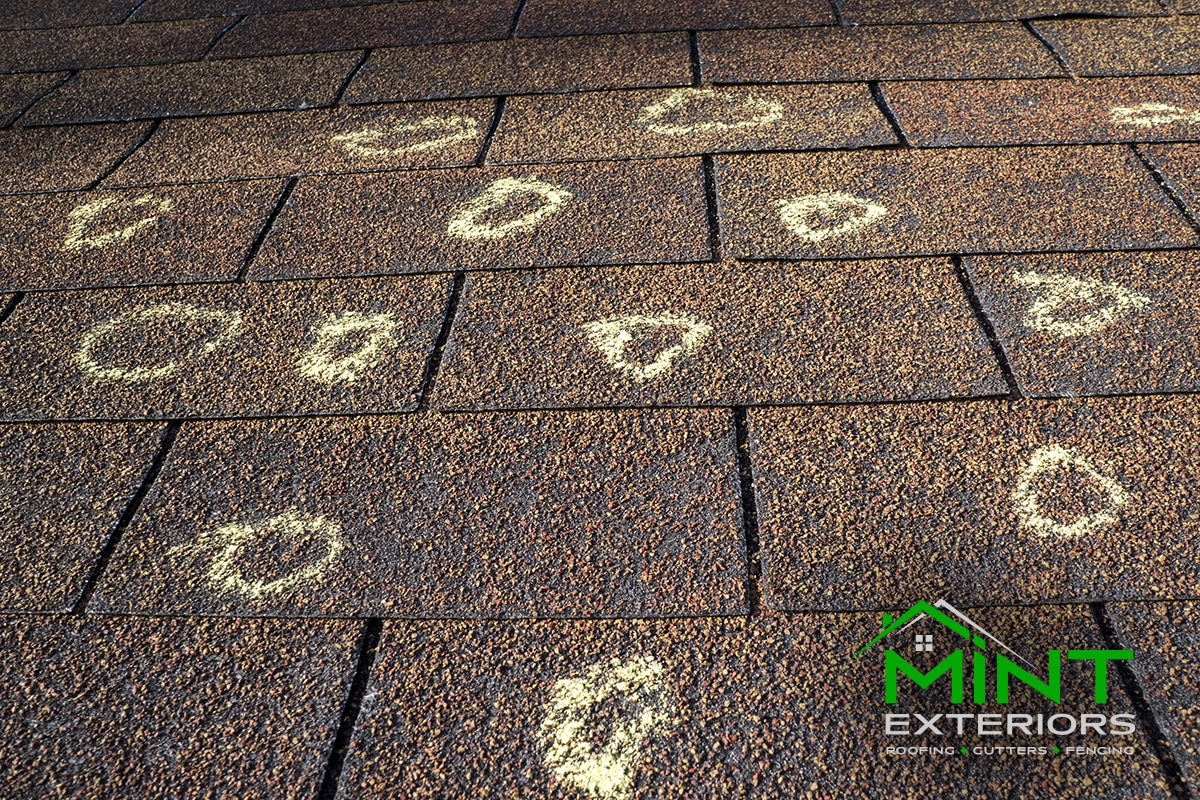 In 2020, extreme thunderstorms generating golf ball-sized hail caused upwards of $1.4 billion in damage. And that's still nothing compared to the grapefruit-sized hailstones that fell in 2016, costing another $1.4 billion. In total, Texas ranks #1 for home and auto claims paid, reaching $474.6 million – and that doesn't include the countless people that have no idea they even have hail damage.
Thankfully, most states require standard home insurance to cover hail damage. How that coverage applies, though, depends on several different variables, including individual policy and insurance provider. In this guide, we'll reveal how home insurance covers hail damage, and what to do if your policy doesn't include coverage for hail.
Average Insurance Payout To Expect
Most insurance policies cover the total cost of damage minus whatever the deductible is. On average, homeowners claim roughly $12,000 for residential hail damage, and around $4,300 for auto damage, according to State Farm's hail claims data. Though, your claim can still be more or less depending on the damage.
How Does Hail Damage Insurance Work?
Contacting your insurer and filing as soon as possible before scheduling any repairs is the best course of action when dealing with insurance claims. Make sure you also include any photos you can get of the damage. Most policies will allow a person to file a claim within one year of discovering hail damage. Though, you may want to verify these deadlines with your insurer.
In most states, your standard homeowner's policy will include protection coverage for hail. Once you file a claim, all you need to worry about is the deductible. Be cautious, though. If the amount your insurance covers is less than your deductible, it might not be worth it to file a claim.
Is Hail Damage Covered By Homeowners Insurance?
In short, yes, most homeowners insurance covers hail damage. However, some providers will limit coverage or increase premiums to cover hail damage. If you want complete coverage, you have to make sure your policy includes it and that there are no other restrictions outlined that will come back to bite you later. For better luck filing claims, you can hire a professional to conduct an impartial assessment to help collect evidence of damage before you file.
If wind/hail damage is not included in your policy, you can still secure coverage through a separate state-run insurance program. The Texas Windstorm Insurance Association (TIWA), for example, is one organization that sells reasonable wind/hail coverage for coastal property owners.
Does Homeowners Insurance Cover Hail Damage To Vehicles?
Homeowners insurance covers the cost of damage to your primary property and thus will not cover hail damage for a vehicle. To cover damage to your car, you will want to look at your auto insurance policy or upgrade your coverage to include hail damage.
Will Claiming Hail Damage Increase Home Insurance Rates?
Most insurance policies are lenient when it comes to weather damage and will not hike your rates because you need to file a claim. Especially in areas prone to suffering more severe storms. In Texas, laws even prevent insurance companies from raising rates after a single claim. Filing multiple claims for hail damage in less than three years, though, will likely cause an increase.
How To File A Roof Insurance Claim For Hail Damage
Because your roof is part of your home, homeowners insurance will usually cover roof replacements based on the age/condition of your roof and current construction costs. For example, if the total cost to replace a 10-year-old roof is $30,000, and your deductible is $3,000, a policy that includes roof replacement should cover up to $27,000. If you have a policy that uses actual cash value coverage, the roof's depreciated value will be subtracted, meaning if your roof has lost half its value through depreciation your policy will only cover $12,000 in damages. You will owe your deductible as soon as your claim is filed. To file, simply:
Owe a mortgage? You may need to work with your mortgage company to have the funds for your repairs released.
Get A Thorough Roof Repair Estimate
Your roof repair estimates will play a key role in how much your claims are approved for, so choose your contractors wisely. When you get your estimate through MINT Exteriors, we include the cost of all required materials and labor. We secure necessary building permits. And we carefully detail work specifications, approximate start/stop dates, payment procedures, and related warranty information so your adjuster has everything they need.
How To Deal With Your Insurance Adjuster
Meeting with an insurance adjuster is a necessary part of getting a claim approved for hail damage. The best thing you can do is try to make the appointment a smoother experience for everyone. You can do this by having all your estimates and proof of damage, like photos, ready to go when your adjuster arrives. Also, make sure you have one of our contractors at MINT Exteriors handle your initial inspection, and be present during your assessment, so your adjuster can communicate directly with our experts about the repairs you need.
Do Homeowners Pay Deductibles For Hail Damage?
Texas is one of 19 states that currently enforce mandatory hurricane deductibles, which typically include coverage for hail damage. According to Michael Barry, an Insurance Information Institute (III) spokesman, "there are two kinds of wind damage deductibles: hurricane deductibles, which apply to damage solely from hurricanes, and windstorm or wind/hail deductibles, which apply to any kind of wind damage." Both are based on the insured value of the property. So, make sure you speak with your insurer about what type of coverage you need, how much your specific policy covers, and how much that coverage costs you.
Cosmetic Damage Coverage
Many insurance policies are automatically drafted with "cosmetic damage exclusion" clauses to reduce losses for insurers in the event of severe weather. The rest will often offer it on a case-by-case basis. Insurance providers claim the purpose of this is simply to keep premiums low for policyholders. In exchange, homeowners are given a credit to lower premiums for hail damage. Talk with your insurance provider to see if your policy excludes cosmetic damage and whether you're entitled to receive a credit for your exclusion. So, is it really worth it for you to file a claim for hail damage? Find out by contacting our competent roofing contractors at MINT Exteriors for a FREE roof inspection today by calling (214) 214-6468 to schedule service, use the chat feature, or simply fill out the form in the sidebar!