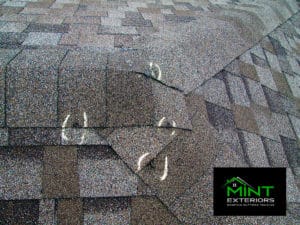 If your roof is damaged in a storm, you may not even know it. The ONLY way to know for sure is to take advantage of our FREE roof inspection services at MINT Exteriors as soon as you can!
While it may be true that your residential property is good at protecting your family from the elements, it's not completely impervious to storm damage itself. Your roof especially can be worn down, and even severely impaired, if the weather gets bad enough; which is precisely where our residential storm damage restorations services at MINT Exteriors come into play.
If the damage to your residential property by extreme weather is left alone for too long, you can be certain it's only going to get worse. Broken shingles alone, often caused by extreme winds or hail, can cause leaks/water damage, ventilation issues, and other concerns that will only lead to even greater damage later on that is even harder and more costly to fix. The good news for you though is, our storm damage roof restoration team at MINT Exteriors can always help bring your residential property back from even the most extreme natural disasters. Don't know where to begin, or even if you have any residential storm damage at all? Let our restoration experts help you find out! Most homeowners don't even realize how much damage even a smaller storm can do, or what's actually covered by insurance, but our storm damage roof restoration team definitely does!
Our storm damage roof restoration specialists have years of experience helping residential property owners find their way after big storms. In addition, we also have dedicated insurance claims experts on staff who can help you navigate the process of getting approved to have your repairs/replacement costs covered by your insurance company. In fact, its really not as hard as most people think. The biggest problem is that most people, including well-meaning inspectors, just don't know what to look out for like we do, which can leave homeowners paying for things out of pocket. We can make sure even the smallest details related to your residential property's damage are noted though, so that there are no oversights when it comes time for you to collect the funds you're entitled to.
If your residential property has survived another storm recently, there's really no time to waste. Your home may have significant damage already without you even knowing it, and you may be entitled to have it all fixed. The only way to know for sure though, and prevent any existing damage from progressing and costing you much more later, is to take advantage of our FREE roof residential storm damage inspection services at MINT Exteriors as soon as you can!
Are you looking for residential storm damage roof restoration in Waxahachie TX? Call MINT Exteriors today at (214) 214-6468. We provide residential and commercial roof repair, replacement, and restoration, as well as any exterior residential construction project. Working on both contracting and insurance sides, we are considered experts in the field. We can help with the claim process from A to Z, like each customer is our own grandparents, or walk you through a non-insurance job. We explain the whole process from A to Z and will be able to show you how we are very particular and leave your property in MINT condition.